There are seven photos on this page:
1. Two nestling Belted Kingfishers,
orphaned when a bulldozer destroyed the nest tunnel
2. Early nestling Belted Kingfisher,
view of belly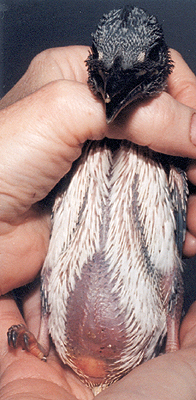 3. Nestling Belted Kingfisher
(note the large head and small feet)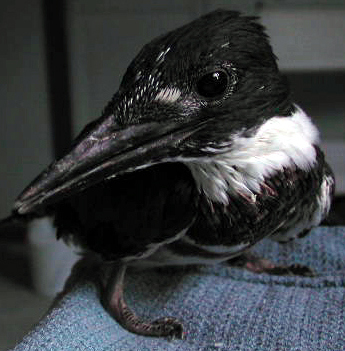 4. Nestling Belted Kingfisher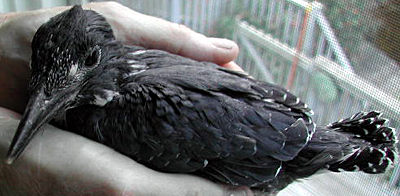 5. Early to mid-nestling Belted Kingfisher,
side view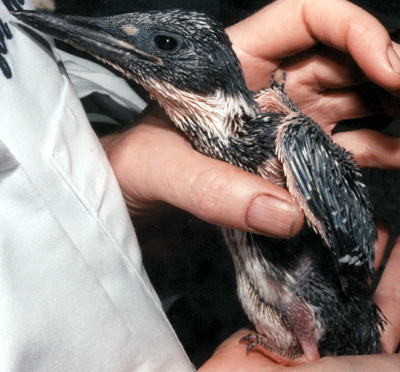 6. Mid-nestling Belted Kingfisher,
view of belly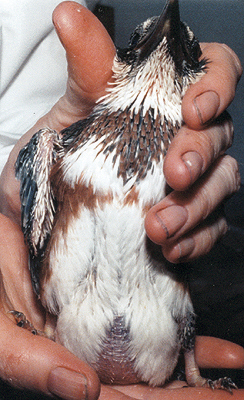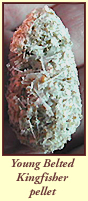 Kingfishers live near water and eat fish plus a wide variety of foods including berries, crayfish, and insects. Every day they cast up a pellet of indigestible food part such as fish bones and scales. These birds appear to be made up of mismatched body parts, with large heads and small feet which make them seem clumsy on land, but they are very skillful divers. Belted Kingfishers have a habit of walking backwards. The nest is a tunnel that the parents dig in a dirt or sand bank.
As mentioned above, these two nestlings were brought to us after their nest tunnel was destroyed by a bulldozer, and then a predator dug into the remaining nest, killing four nestmates. They were raised and rehabilitated successfully, and then released.