Baltimore Orioles
There are five photos on this page. As with our page on Cedar Waxwings, although most of our gallery pages are designed wherever possible to give you an idea of how a bird of each species develops from nestling to adult, this page shows examples of two separate happy recoveries from traumatic injuries.

First-Year Female Out of Season
Fledgling in Summer

First-Year Female, Out of Season
(three photos and some text)
1. First-year female Baltimore Oriole
recovering from cat attack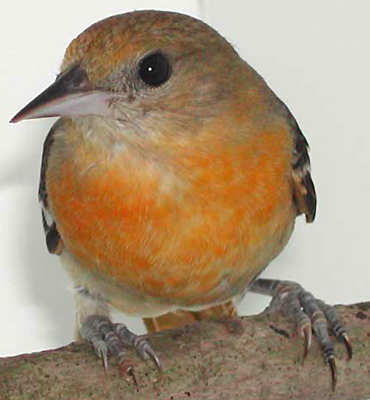 Baltimore Orioles usually spend their winters far south of New England. However, this first-year female Baltimore Oriole showed up in the middle of winter in Westport, Massachusetts, where she found little or no food and was attacked by outdoor cats. Although admitted in very bad condition, she was successfully treated, and here you can see that she fully recovered from her many infected wounds.
2. Female Baltimore Oriole,
belly view, wounds have healed.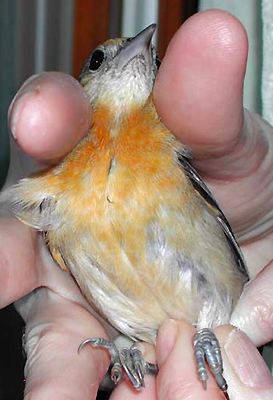 3. Female Baltimore Oriole,
healthy, alert and recovered from cat attack,
side view.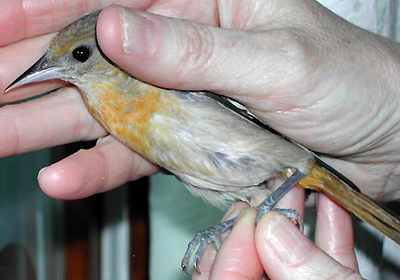 Fledgling in Summer
(two photos and some text)
1. Fledgling Baltimore Oriole that
has recovered from a cat attack, front view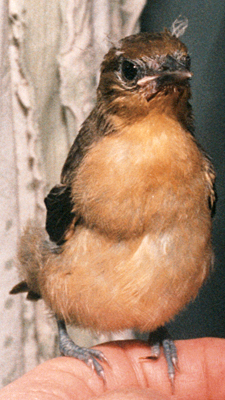 2. Fledgling Baltimore Oriole that
has recovered from a cat attack, side view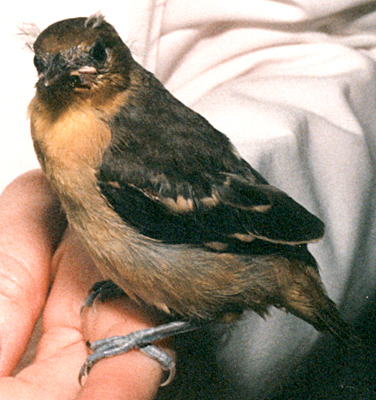 Baltimore Orioles are members of the Icterid family of birds, and related to the Red-Winged Blackbird. Orioles eat caterpillars and other insects found on leaves, and are also fond of oranges. Their nest is a woven hanging basket, generally found high in trees. Baltimore Orioles seem especially susceptible to pesticides sprayed for gypsy moth and mosquito control.
The fledgling in these two photos was brought to us after being bitten by a cat. It was successfully treated and released. Note the blue legs, a characteristic feature of this species!



[Home] [Whoooo are we?] [the Story of Baby Birds] [Myths & Misconceptions]
[FAQs] [How you can help] [Photo Gallery] [Contact] [Donations] [Shopping]
[Emergency? Click here.]
This website and all its contents belong to The Place for Wild Birds, Inc.
Copyright © 2002, all rights reserved. Reproduce only with permission.
All photographs by Walter S. Bezaniuk. Most illustrations by Kathleen Frisbie.
Site design by and some illustrations by Sara.