There are two photos on this page:
1. Juvenile Common Raven
that has recovered from being hit by a car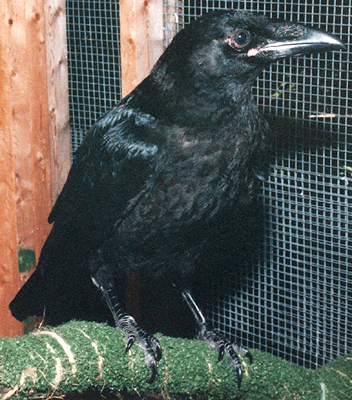 2. Juvenile Common Raven
curious about the camera.
(Note the blue eyes.)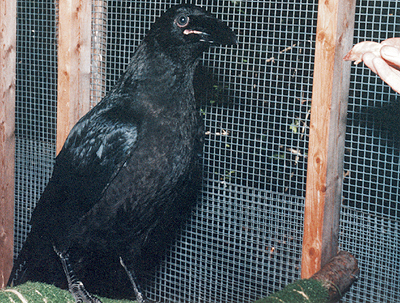 Larger than the Crow, the Raven is a highly intelligent member of the Corvid family, which includes Bluejays. Corvids have complex social behaviors and well developed methods of communication. True omnivores, they enjoy an extremely varied diet. Young Ravens and Crows have blue eyes, which later turn dark as they age.
Raven parents, along with Crow parents, may be the only birds that bring water (carried in their beaks or throats) to their nestlings!
This juvenile Raven was found by the side of the road, unable to fly. Probably hit by a car, this bird made a full recovery.


[Home] [Whoooo are we?] [the Story of Baby Birds] [Myths & Misconceptions]
[FAQs] [How you can help] [Photo Gallery] [Contact] [Donations] [Shopping]
[Emergency? Click here.]
This website and all its contents belong to The Place for Wild Birds, Inc.
Copyright © 2002, all rights reserved. Reproduce only with permission.
All photographs by Walter S. Bezaniuk. Most illustrations by Kathleen Frisbie.
Site design and some illustrations by Sara.