There is just one photo on this page:
Orphaned fledgling White-Breasted Nuthatch,
ready for the aviary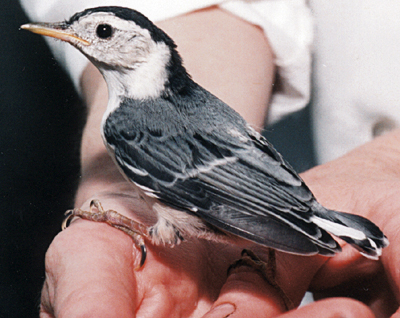 Known for walking head-first down tree trunks, this short-tailed bird eats bugs in summer and nuts and seeds in winter. Nuthatches also eat suet. They are cavity nesters, and mated pairs stay together all year. They usually do not migrate.
Here is a fledgling Nuthatch that came to us as a nestling after being found in a yard. It could not be safely returned to its nest, so we cared for it until we could release it as a healthy juvenile.


[Home] [Whoooo are we?] [the Story of Baby Birds] [Myths & Misconceptions]
[FAQs] [How you can help] [Photo Gallery] [Contact] [Donations] [Shopping]
[Emergency? Click here.]
This website and all its contents belong to The Place for Wild Birds, Inc.
Copyright © 2002, all rights reserved. Reproduce only with permission.
All photographs by Walter S. Bezaniuk. Most illustrations by Kathleen Frisbie.
Site design by and some illustrations by Sara.