There is just one photo on this page:
Young Virginia Rail that has
recovered from cat bites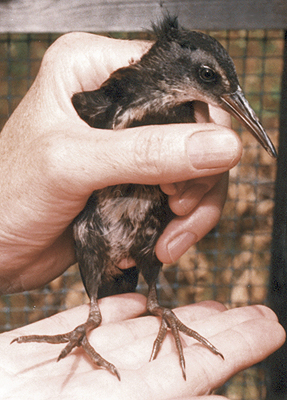 Related to the Purple Gallinule, the Virginia Rail is a small secretive marsh bird that is a very fast runner. (Note the long toes!) These birds eat mostly insects, but will also feed on tiny fish, snails, weeds, and some seeds. The nest is a loosely woven cup usually near or over water. They spend the winter in southern United States to Guatemala.
This young Virginia Rail was attacked by a cat, but recovered following treatment, and was released.


[Home] [Whoooo are we?] [the Story of Baby Birds] [Myths & Misconceptions]
[FAQs] [How you can help] [Photo Gallery] [Contact] [Donations] [Shopping]
[Emergency? Click here.]
This website and all its contents belong to The Place for Wild Birds, Inc.
Copyright © 2002, all rights reserved. Reproduce only with permission.
All photographs by Walter S. Bezaniuk. Most illustrations by Kathleen Frisbie.
Site design and some illustrations by Sara.