There is just one photo on this page:
Feeding an injured adult Saw-Whet Owl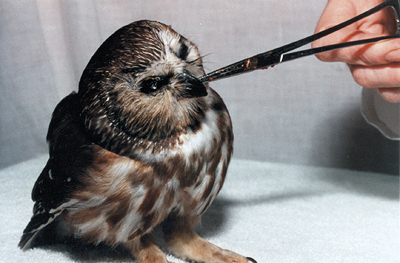 Named for its distinctive call, the Saw-Whet is the smallest member of the eastern Owl family. Saw-Whets feed primarily on insects but will eat mice and small birds. These tiny birds of prey have black beaks, unlike other Owls. However, like many other Owls, they are cavity nesters, they do not migrate to tropical locations, and they are nocturnal.
This adult Owl was found on the side of a highway with a head injury, probably from being hit by a car. It made a full recovery and was released, hunting skills intact.



[Home] [Whoooo are we?] [the Story of Baby Birds] [Myths & Misconceptions]
[FAQs] [How you can help] [Photo Gallery] [Contact] [Donations] [Shopping]
[Emergency? Click here.]
This website and all its contents belong to The Place for Wild Birds, Inc.
Copyright © 2002, all rights reserved. Reproduce only with permission.
All photographs by Walter S. Bezaniuk. Most illustrations by Kathleen Frisbie.
Site design by and some illustrations by Sara.