There are two photos on this page:
1. Yellow Warbler that was
successfully treated for cat bites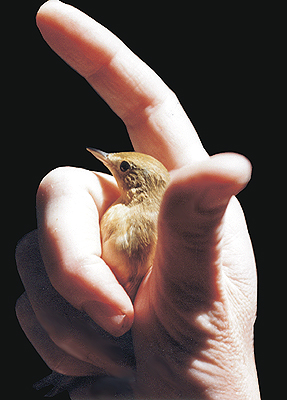 2. Yellow Warbler, top view,
ready for release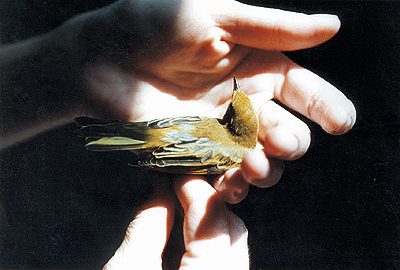 This small yellow bird belongs to the Warbler family and eats mostly insects. They are fairly tolerant of humans, and generally nest in trees. These birds are frequent hosts to parasitic Cowbirds during breeding season. Yellow Warblers winter from Mexico to Peru.
Suffering wounds from a cat attack, this Yellow Warbler was treated and made a full recovery.


[Home] [Whoooo are we?] [the Story of Baby Birds] [Myths & Misconceptions]
[FAQs] [How you can help] [Photo Gallery] [Contact] [Donations] [Shopping]
[Emergency? Click here.]
This website and all its contents belong to The Place for Wild Birds, Inc.
Copyright © 2002, all rights reserved. Reproduce only with permission.
All photographs by Walter S. Bezaniuk. Most illustrations by Kathleen Frisbie.
Site design and some illustrations by Sara.